The Greek beaches that have been honoured with the 2014 Blue Flag quality award were announced on 7 May by the Hellenic Society for the Protection of Nature.
According to the announcement, Greece once again ranked second place on the Blue Flag quality award list, this year among 51 countries. Spain was in first place.
In total, 408 beaches and 10 marinas in Greece have been recognized for their excellent seawater quality, litter management, organization of the swimming area, safety procedures for bathers and protection of the environment, among other factors. Last year, 393 beaches and nine marinas were honoured with the quality "Blue Flag" award in Greece.
The "Blue Flag" is a voluntary eco-label awarded to the cleanest and best managed beaches across the world and is run by the independent, non-profit organization Foundation for Environmental Education (based in Copenhagen). The Hellenic Society for the Protection of Nature is the program's coordinator for Greece.
Tourists want "Blue Flag" beaches
According to the Hellenic Society for the Protection of Nature, international travel agencies abroad pay special attention to blue flag beaches when destinations are chosen for their clients.
Last year, the Greek Tourism Ministry signed a cooperation protocol with the Hellenic Society for the Protection of Nature to increase the number of Greek Blue Flag beaches and improve the level of services offered there.
"Blue flags" in Attica and Thessaloniki
Once again, 13 beaches in Attica received blue flags this year, namely Schinias (Karavi), Brexida, Avlaki, Mavro Lithari (Eden Beach), Anavyssos (central), Lagonisi 1 (Grand Beach), Lagonisi 2 (Mediterraneo), Lagonisi 3 (Kohilia), Varkiza, Asteras Vouliagmenis, Voula (A), Agia Marina (Aegina Municipality) and Kakia Lagada (Kythera Municipality).
Alike last year, 11 beaches in Thessaloniki received the eco-label blue flag distinction: Seraiki, Asprovalta, Vrasna, Nea Vrasna, Stavros (central), Stavros (east), Stavros (west), Agia Triada (PIKPA), Neoi Epivates, Perea and Potamos.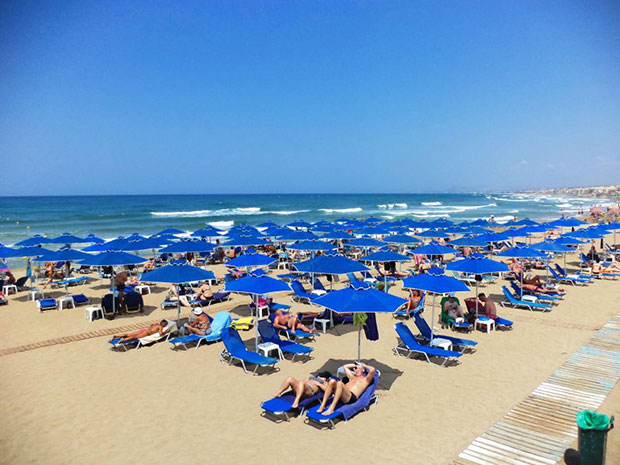 Blue Flag beaches around the world
On a worldwide scale the foundation awarded the international eco-label (blue flags) to 3,372 beaches and 650 marinas for 2014.